Prom season is upon us, and for many high school students, this is one of the most exciting times of the year. It's a chance to dress up, dance the night away, and make memories that will last a lifetime. However, with so much emphasis on looking your best, it's no surprise that prom can be a stressful time for many students. That's why we've put together this ultimate guide to help you look and feel your best on prom night.
Here you will get some ideas on how to dress for that night and make a good choice to look awesome with a corsage in your dress or any other compliment to give you the look you're trying to get.
Dress to Impress
Choosing the perfect prom dress can be a daunting task, but it's one of the most important decisions you'll make. You want to choose a dress that makes you feel confident and beautiful, while also being comfortable enough to dance in. When choosing a dress, consider your body shape and personal style. Don't be afraid to try on different styles and colors until you find the perfect one.
If you're not sure where to start, here are some of the top prom dress trends for 2023:
Classic silhouettes, like A-line and ballgowns
Bright, bold colors, like fuchsia, emerald green, and royal blue
Sparkly embellishments, like sequins and beading
High-low hemlines, which are shorter in the front and longer in the back
Remember, your dress doesn't have to break the bank. There are plenty of affordable options available online and in stores.
Get Your Glam On
Once you've chosen your dress, it's time to start thinking about your hair and makeup. Whether you prefer a natural look or full glam, the key is to enhance your features and feel confident in your own skin. Here are some tips to help you achieve the perfect prom look:
Schedule a hair and makeup trial before the big day to ensure you're happy with the result
Use waterproof makeup to avoid smudging or running
Bring touch-up products, like lipstick and powder, with you for quick touch-ups throughout the night
Consider hiring a professional makeup artist or hair stylist if you're not confident in your own skills
Don't Forget the Details
Accessories are the finishing touch to any prom look. Whether you choose a statement necklace, bold earrings, or a simple clutch, accessories can add that extra pop of personality to your outfit. Here are some of our favorite prom accessories for 2023:
Statement earrings, like oversized hoops or chandelier styles
Dainty necklaces, layered for a trendy look
Clutch purses in bright, bold colors or sparkly metallics
Comfortable, stylish shoes that you can dance in all night long
Plan Ahead
The key to a stress-free prom night is to plan ahead. Make sure you have all your outfit, beauty, and accessory essentials ready to go before the big day. Here are some things to consider when planning for prom:
Book transportation in advance, whether it's a limo or a ride-sharing service
Coordinate with your date or group to ensure everyone's on the same page
Pack a small emergency kit with essentials like band-aids, safety pins, and breath mints
We recommend our fresh corsages for your prom night, which will be well suited by men and women, making them feel special and unique.
Now, considering our catalog and experience, these three tips could make your choice of flowers and corsage more confident.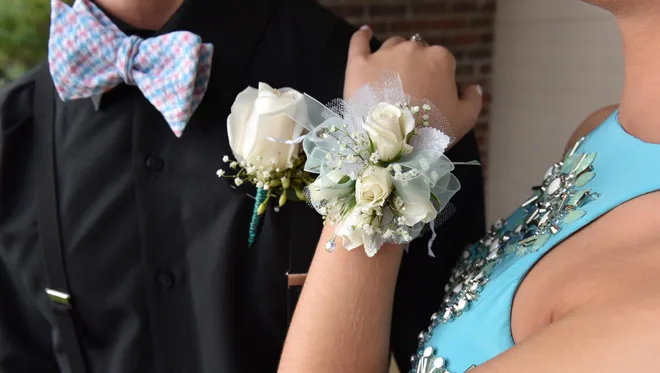 Tip #1: Go traditional
Roses are the most common types of flowers given on prom night. They can be purchased in many different colors, meaning they will complement almost any dress. Any guy who is looking to impress his date will definitely succeed by giving roses. Another traditional and popular flower choice is orchids. If a guy is looking to give an exotic flower, orchids are the way to go. Lastly, another popular choice is carnations.
Tip #2: Making the best choice
There are three factors to keep in mind when choosing flowers for prom night:
The color of the dress
The style of the dress
The personality of the girl they are going to be given to
Because of this, it's a good idea for the guy to know beforehand the dress that his date will be wearing. In fact, bringing a picture of the dress to us is a great move to make because we can help you pick out the best flowers.
Tip #3: Buying flowers early
Lastly, a guy needs to remember to order the flowers at least one to two weeks in advance. If he waits until the day before prom, there is a high likelihood that we will be sold out of the type of flowers the guy is wanting to buy.
Enjoy the Moment
Finally, remember that prom is about having fun and making memories with your friends. Don't stress too much about looking perfect or impressing anyone else. Instead, focus on enjoying the moment and making the most of this special night. Dance, laugh, and have a great time!
In conclusion, prom is an exciting time for high school students, and with a little bit of planning and preparation, you can look and feel your best on prom night. Use these tips and trends to help you create the ultimate prom look, and make sure to have fun and enjoy the moment. Prom is a once-in-a-lifetime experience, so don't let stress or anxiety take away from the magic of the night.