Mix Combo Boxes
DIY Wedding Flower Combo Box has a little bit of all the flowers that you will need to create your wedding arrangements. Below are some of our more popular flower combinations. These combinations are designed for those who want to do it themselves. We have cut out the guess work regarding quantities, and what works well together, for making your own wedding flower arrangements, bridal bouquets, and other event flowers. All colors are selected by you, giving you the opportunity to make your own statement.
Don't see a combination of flowers that you want for your wedding? No problem! Simply call us and we will give you a quote on a custom package for your wedding. We are always available and ready to help plan your perfect wedding flower project.
Freshness Guarantee and Secure Shopping.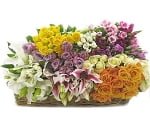 Show Filters